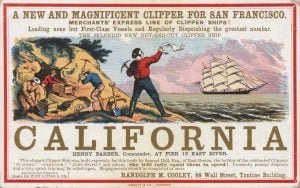 Goldrush
This special article is published to help our readers conduct research into mining claims for themselves. First of all, when
California Genealogy is designed to help you to find online genealogy data for California. We hope this website will assist you in establishing your California family history.
At present we have a series of pages devoted to identifying the various genealogical resources online. You can access this list from every page on the site, as they'll always appear on the right side.
We will be updating these pages frequently with additional California genealogy and historical data, so please visit often.
Please take some time and read books we have put on line for you research:
We are also the hosts of California Gold Rush Most Wanted, if you have a ancestor lost in California during the time of the Goldrush, 1840s-1880s, you will want to make a "brick-wall" post here.
Surrounding States
California has borders with Arizona, Nevada, Oregon, and Mexico.
Other California Genealogy Websites